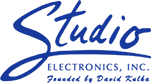 Your cart is currently empty
New Replacement Sifam VU Meter for Teletronix, UREI LA-2A, w/Teletronix Logo U2
SKU:
NEW.LA2A.VU
Stock:
2
New replacement VU Meter for all versions of the Teletronix, UREI, and UA LA-2A. The meter is not illuminated. VU meter bezel and mounting hardware is included.
Please note that this is NOT an exact replacement for the original Beede VU meter. The appearance is nearly identical, but the outside dimensions are slightly different. If you are replacing a faulty Beede meter in an original unit, you'll need to file or mill out the sides of the cut out.
VU meter Dimensions (without bezel):
Width (upper section): 3.69"" (94mm)
Width (lower section): 3.59"" (91mm)
Height: 2.85: (73mm)
Thickness (upper section): .45"" (11.5mm)
Thickness (lower section): .368"" (9.5mm)
Diameter of round movement housing: 1"" (21mm)
Depth of round movement housing, including terminals: 1.47"" (33.5mm)
Cut out required for meter assembly with bezel:
Width 3.88"" (98.5mm)
Height 1.815: (46mm)
"
Currently there are no reviews for this product. Share your opinion with others, be the first to write a review.