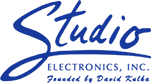 Your cart is currently empty
Cinemag B11178B Input Transformer for all UREI UA LA-3A, 2-LA-2, 4-40 Studs. C2
New Replacement "T1" B11178 input transformer for all UREI and UA LA-3A's, and the UA 2-LA-2. This is the transformer that UA uses in their reissue LA-3A, custom made by Cinemag. It is also used in the UA 2-LA-2. This is the exact same part as the original B11178, which was made by Cinemag for UREI back in the 1970's, the only difference is the silkscreening on the can. It has two 4-40 threaded mounting studs that are fastened to the base. A datasheet and wiring instructions are included with this item.

This is a bridging input transformer with dual primary windings and a single secondary winding. It can be strapped for 1:5 ratio (as in the LA-3A) or 1:10 ratio. In the 1:5 LA-3A circuit the two primary windings are wired in series and the transformer has 12 db of gain when properly loaded. For other applications the two primary windings can be wired in parallel, giving 18 db of gain at the secondary. The transformer has an electrostatic shield and is well shielded against hum and RFI.

It can also be used as a mic input transformer.
Currently there are no reviews for this product. Share your opinion with others, be the first to write a review.