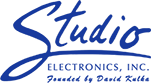 Your cart is currently empty
"
David Kulka / Studio Electronics are the vintage pro audio service specialists. We repair, refurb, modify, and sell classic pro audio gear, serving hundreds of famous studios, engineers, artists, and producers since 1981. We offer factory authorized service for leading manufacturers and are recognized worldwide as one of the industry's most reputable and best-equipped pro audio repair centers. Our techs have over 100 years of combined experience in pro audio repair and design.
Our service specialties include UREI, AMS, dbx, Eventide, EMT, and many other classic brands. We build and stock custom audio cables, adapters, preamp & EQ racks, and other specialty products.
All parts and equipment on our store are fully guaranteed unless noted "as is, for parts only". Out refurbished equipment carries a full 90 day warranty, but all sales are final. If you have questions please contact us.
"