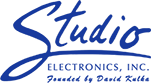 Your cart is currently empty
Custom EMT 140 Reverberation Unit Desktop Decay Time Meter & Remote Control. EX
SKU:
EMT.140.remote
Stock:
Out of Stock
Custom EMT 140 Reverberation Unit Desktop Decay Time Meter & Remote Control. These are new units that our shop has custom built, using original EMT meter movement units. These are handsome rugged units with The meter along with MORE and LESS buttons, on a sloping front panel. The meter scale is calibrated from .5 to 5 seconds. The rear panel is a 5-pin male XLR.

The units are fabricated and assembled, but because EMT made 3 versions of the original plate interfaces, with different voltages and currents, these units must be wired and calibrated to order, according to the version and the actual voltages on your unit.

Dimensions are approx. 5"" wide, 5"" high, 5"" deep at the bottom, and 3.5"" deep at the top.

The price includes the unit, a custom interface to match your particular EMT plate, and a 50 foot interface cable. Other cable lengths are available on request. The interface cable can be any length.

PLEASE NOTE: Before finishing and shipping your unit, we send you a small test adapter and ask you to measure the voltages at the XLR remote connector on your plate. This is a simple test, but you'll need to have some kind of DVM or multimeter to do it. Once we get those readings from you we'll finish your remote unit, and ship it to you.

To go ahead please purchase the unit on line and make your payment. After the order is confirmed, we'll contact you to over the measurement process and mail you the test adapter.
Currently there are no reviews for this product. Share your opinion with others, be the first to write a review.