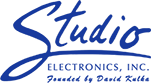 Your cart is currently empty
New DMX23 CPU PC Board For AMS RMX16, DMX 15-80S, and S-DMX Models. AB
New DMX23 CPU PC Board For AMS RMX16, DMX 15-80S, and S-DMX Models. These are newly manufactured replacement CPU boards for the three popular AMS models. They are plug and play replacements for the old boards, with several important improvements.

The original DMX23 PCB's are one of the most common failures in AMS gear. Most failures are caused by battery leakage, which deposits chemicals on the PCB's and over time, gradually destroys the foils and insulating properties of the PCB material. In most cases this damage cannot be repaired reliably and the PC board must be replaced.

Our new DMX23's offer major improvements. Instead of a battery these boards use a super capacitor, which is not subject to leakage and unlike the battery, will not need replacement every few years. Also, we have replaced the old E2 plug DIP jumper (which was used on the 15-80S and S-DMX, but not the RMX16) with a set of 9 plug in links, which allow simpler configuration and provide a cleaner layout. Also, we've improved the Reset circuit, which often caused problems with boot-up and user setting storage.

The board includes a service bulletin that explains how to set the programming jumpers for 15-80S and S-DMX models, etc.

Please be aware that with all three of these AMS models, multiple failures are very common. We often see units that have bad DMX23 boards, but also have bad ribbon cables, motherboard problems, and/or other bad boards. So if you have a unit that does not boot up or has other system problems, replacing the DMX23 may only resolve some of the issues.
Currently there are no reviews for this product. Share your opinion with others, be the first to write a review.