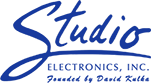 Your cart is currently empty
Marshall AR-300 Tape Eliminator Near Mint Full Recap/Refurb, Works/Sounds Great!
SKU:
MAR300
Stock:
Out of Stock
Here's another rarity from Studio Electronics- a near mint Marshall Tape Eliminator, fully refurbished, in perfect operating condition. We have replaced all the electrolytic and tantalum capacitors, installed rebuilt and calibrated dbx cards, installed the updated balanced I/O board, and fully calibrated the unit. It looks like new and sounds excellent.

This model has an interesting history. Prototype models of the AR-399 were originally built for Phil Ramone's A&R Studios in New York, then manufactured for sale through pro audio dealers. Though they are rare, with just a few hundred built, they've always been held in very high esteem along with Mr. St. Croix's other product of that time, the famous Marshall Time Modulator.

The Tape Simulator includes a proprietary "black box" analog delay module, similar to the one in the Time Modulator, but with an extended delay time time. Delays are continuously adjustable between 20 and 300 milliseconds. The A, B, and C range setting correspond to tape machine speeds of 30, 15, and 7.5 ips, with fine adjustment performed by a rotary pot. The unit features an outstanding signal/noise ratio (105 db), flat frequency response, and a nearly clip proof input section.

This is a later model that includes the Low Noise update, the Balanced I/0 Board, and all the other improvements that Steven St. Croix developed over the life of the product.

It is in excellent electronic, mechanical, and cosmetic condition. The unit is in excellent, near-new cosmetic condition. We're including a brand new power supply, with XLR in and out cables, along with a copy of the owner's guide. For buyers outside North America, we can provide a 230 volt power supply.) The unit is balanced +4 in and out. It is fully guaranteed for 90 days.

Front panel controls include input level, delay range, and delay sweep. Three LED's indicate headroom. It's very simple to use and sounds great.
Steven St. Croix passed away in 2006, leaving a remarkable legacy of contributions. Many in pro audio never saw a Marshall Time Modulator but nearly all of us knew his Fast Lane columns, which ran in Mix Magazine for 18 years. As a member of the National Archives advisory committee, Mr. St Croix proposed a tape machine with 200 heads to extract audio from the infamous 18 1/2 minute Watergate tape, which contained an erased conversation between Richard Nixon and H.R. Haldeman. His revectoring technique was used to restore audio on classic films like The Wizard of Oz, Easter Parade, and Yankee Doodle Dandy. In the mid 90's he founded Intelligent Devices. The firm specializes in forensic audio products.
Currently there are no reviews for this product. Share your opinion with others, be the first to write a review.