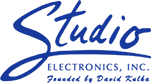 Your cart is currently empty
Cinemag 1254 Enhanced Moving Coil Cartridge Transformer (CMQEE-3440A Upgrade) C6
New Cinemag CM-1254 High Performance Moving Coil Cartridge Step Up Transformer. This is an enhanced version of Cinemag's popular CMQEE-3440A moving coil step up transformer. The 1254 is specifically designed and optimized for moving coil cartridges and offers better sonics. It's impedance and gain ratios are similar to the 3440A (which is actually a mic input transformer), but the 1254 has a slightly lower input impedance. Every CM-1254 is personally tested by David Geren, President of Cinemag.

The primary can be wired for impedances of 37.5, 150, or 600 ohms; secondary impedance is 50k. Gain ratio is 1:37, 1:18.5, or 1:9.25, depending on which primary winding is used. Maximum operating level is -2 dBu. A mounting bracket and screw are included, along with a copy of the manufacturer's wiring diagram.
Currently there are no reviews for this product. Share your opinion with others, be the first to write a review.