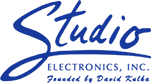 Your cart is currently empty
New DJR / Studio Electronics Dual Remote Control For AMS RMX16 And DMX 15-80S/S-DMX
SKU:
AMS.dual.remote
Stock:
Out of Stock
ANNOUNCEMENT: After many requests from customers and after years of development, Studio Electronics will soon be releasing our AMS RMX/DMX Dual Remote Control. This is an attractive and rugged desktop unit, similar in size and appearance to a Lexicon LARC. It will control an AMS DMX delay and an RMX16 reverb simultaneously. UNITS ARE EXPECTED TO SHIP IN FEBRUARY 2016.

General Features:
Simultaneous control of one RMX16 reverb unit, and one DMX 15-80S or S-DMX delay unit
Rugged aluminum enclosure
Includes power supply, does not draw power from the AMS units. Operates on any power source, any region
Includes 25' cable for RMX16 and 25' cable for DMX 15-80S or S-DMX
Easy, intuitive operation
User presets are stored in on board EEPROM, unit needs to battery
Made in USA!

RMX16 Features:
Controls Decay Time, Predelay Time
Controls Filter parameters
Selects Reverb Program
Stores numerous user presets
Color LCD display shows settings and changes

DMX 15-80S / S-DMX Features:
Includes Chorus Controller program similar to the original AMS Chorus Controller
Includes additional Chorus Controller Program, with slightly different algorithm
Speed and Depth controls for both Chorus programs
2 Sliders linearly control the Channel A and B pitch changers
Sliders adjust A and B Delay Times in milliseconds, with course 1 second adjustments also available
Slider control of many other DMX parameters
Color LCD display shows settings and changes

The unit includes a worldwide power supply; 100-240 VAC, 50/60 Hz. For North American buyers we'll include a standard U.S. type power cord. Buyers outside of North America will need to supply their own power cord; the power supply itself has a standard IEC type connector, compatible with standard AC cords in any region. A user guide is also included.

Compatibility:
To use the remote, you'll need to update the System and Effects Extender IC's in your Delay unit, and the System IC in your RMX16. These IC's are included with the remote, along with install instructions. All RMX16's and S-DMX's were manufactured with remote control connectors on the rear panel. Most brown DMX 15-80S units were built with remote connectors on the rear, but not all. To confirm that your units have remote connectors simply look for them on the back panel, and then take the top cover off to be sure that they are actually wired.

Please note that some AMS units have remote ports that are installed and connected but don't work, due to some internal failure over the years and unfortunately, there's no way to test them without actually plugging in a remote control. If you have an AMS unit with a dead remote port we can repair it. However, returns are subject to a 10% restocking fee.

AMS delays in reverbs are among our specialties, we've serviced and sold hundreds of them. If you have any questions, please contact us.
Currently there are no reviews for this product. Share your opinion with others, be the first to write a review.