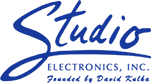 Your cart is currently empty
Eventide H3000 Ultra-Harmonizer, Kitchen Sink/Plus+ Upgrade, Refurb, 777 Presets.
SKU:
H3000
Stock:
Out of Stock
PLEASE NOTE: because our stock of this item changes frequently, this listing is only meant to offer general information about the refurb process that we perform on these models, the updated program kit that we install, the accessories that we included, and other details. Front panel coloring, cosmetic condition, and availability frequently change. If you'd like to purchase an H3000 from us, please contact us for up to date info about what is currently avaiable.

Here's another serviced, tested, and fully loaded Eventide H3000 Ultra-Harmonizer from Studio Electronics. This classic multi effects box has the black and yellow "B" front panel and coloring, but we have updated it with the mammoth H3500-DFX upgrade kit, which contains all the original D/SE presets, plus nearly every other preset and algorithm ever created for the H3000 and H3500 models. This is the mother of all H3000 upgrades, with 23 algorithms and 754 presets, including all the Stevie Vai and Mod Factory presets, and the 3D spatial imaging effects. It has all the presets and programs found in the H3000 SE, and more. This classic H3000, found in every major sound studio, contains a wide variety of high quality sounds and effects including layered pitch shift, dual pitch shift, stereo shift, reverse pitch shift, swept comb filter, swept reverb, reverb factory, ultra-tap, long digiplex, dual digiplex, long digiplex, patch factory, stutter, vocoder, multi-shift, band delay, string modeler, phaser, diatonic shift, etc.

Our shop received this unit in good working order but for preventative maintenance we replaced all the electrolytic capacitors in the power supply, serviced the main Molex connector, replaced the battery-backup NV-RAM IC, and did a complete calibration & check out.

The unit has 2 balanced inputs and 2 balanced outs, plus 3 MIDI ports. A switch on the rear panel selects between 115 and 230 volts. A power cord is included. (Users outside North America please note: with 50 Hz. power, some acoustic hum will be heard from inside the unit. This is normal with all H3000's.) The unit will be well packed and is guaranteed to work properly on arrival.

Please note: we came up with the "Kitchen Sink PLUS" nickname for these fully loaded units, but we've noticed that other sellers have been listing units with smaller program sets under the same name. If you are looking at a "Kitchen Sink" units to that from another seller, we suggest that you make sure that it has all 22 algorithms and 754 presets, as our units do.

For a pdf with a complete list of the presets that are included, please go to this link: Kitchen SInk List pdf

Here is a brief summary of the programs and presets that are included:

Algorithms:100-123
100 - Diatonic Shift, a pitch shifter that stays in key
101 - Layered Shift, two pitch shifts from one input
102 - Dual Shift, two separate pitch shifters
103 - Stereo Shift, Mono-compatible stereo pitch shifting(maintains stereo imaging)
104 - Reverse Shift, backwards-talking pitch shift
105 - Swept Combs, six sweepable delay lines, with stereo panning
106 - Swept Reverb, a dense reverb with smooth sweep capability
107 - Reverb Factory, A full-featured reverb with EQ and flexible gating
108 - Ultra-Tap, twelve delay taps with full control over panning, level and delay. includes a diffuser to generate dense gate reverb effects.
109 - Long Digiplex, a 1.5 second delay with smooth delay control
110 - Dual Digiplex, a stereo delay with smooth delay change
111 - Patch Factory, a "modular" effects program which let you design your own effect. "Patch" together delay lines, filters and pitch shifting to create never-heard-before effects
112 - Stutter, get that st.st.stutter sound-effortlessly
114 - Dense Room, our densest reverb, with unique front/back position control
115 - Vocoder, this is Eventide's version of the classic vocoding effect
116 - Multi-Shift, two six-octave pitch shifters, two delays, panning and patchable feedback paths make this program incredibly useful
117 - Band Delay, a multi-tap delay line feeding eight resonant bandpass filters make for some sounds
118 - String Modeler, this program lets the H3000 double as an extra voice in your midi rack
119 - Phaser, a wonderfully thick, smooth, phase-shifting effect that is hard to beat
120 - Studio Sampler
121 - Stereo Sampler
122 - mod factory one of the latest algorithms, adds effects such as delay ducking, BPM delays and sweeps, compression, manual flanging, smooth autopanning, audio triggered sweeps and much more
123 - mod factory two

Presets 150-298
Presets 300-399
Presets 400-699
Presets 700-747 (the Steve Vai presets)
Presets 750-799
Presets 800-900 (the Mod Factory presets)
Presets 975-999
Currently there are no reviews for this product. Share your opinion with others, be the first to write a review.