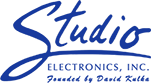 Your cart is currently empty
Misc. IC's; TA, TC, TDA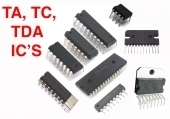 THESE PAGES UNDER CONSTRUCTION - PLEASE STAND BY...
The TA, TC, AND TDA prefix group is a wide variety of IC's in many different package styles including DIP, DIP with heat sink tabs, high density DIP, single in-line (SIP), zig-zag in-line (ZIP), etc. These components were used in consumer audio and TV, power amplifiers, auto sound, VCR's, CD and DVD players, industrial applications, etc. This parts group includes linear, logic, and hybrid designs. Most of these were made by Asian manufacturers.
• Most of these listings have no individual photos, but do indicate package type. In almost all cases our generic part number will be enough to match the part you need, but to confirm a correct match, click on the listing and check the package type in Overview section.

• All of these parts are from major manufacturers like NEC, Toshiba, Sharp, Sony, Matsushita, etc. All parts are unused and fully guaranteed. Some older parts show age from long-term storage, but this will not affect proper operation. None of our parts are counterfeit or B stock.

• You can always use the search box to find a specific part, but it's best to use the basic, generic part number, with no prefix or suffix.

• If you can't find what you need, please ask. Contact us.