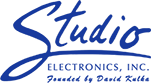 Your cart is currently empty
Output Transformer For UREI Rev A-E 1176LN, All UA 1176LN And UA 1108 Preamp. UT
SKU:
1176LN.OUTTRANS
Stock:
Out of Stock
Output Transformer For UREI Rev A-E 1176LN, All UA 1176LN And UA 1108 Preamp.

Exact replacement "T2" output transformer, marked "UA-5002" on schematics, as used in the UREI black face 1176LN revisions A through E and in the UA 1176LN and all UA 1176LN's.

This part was also used as the output transformer on the classic UA 1108 Mic Preamp.

This transformer cannot be used with the 1176LN silver face versions.

Please note: Sales of this item are limited to two pieces per customer.
Currently there are no reviews for this product. Share your opinion with others, be the first to write a review.