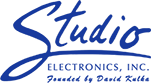 Your cart is currently empty
EMT 251 Color Replacement Display - Hi Res Color TFT Graphics. ET
SKU:
EMT251DISPLAY
Stock:
Out of Stock
The EMT 251 Digital Reverbs are great units but nearly every model now suffers a burned out display. Finally, after many inquiries from frustrated 251 owners, we now offer the DJRS 251 Color display. With its bright, high contrast color graphics, the DJRS 251 is a big improvement over the old dim, monochrome display and makes the EMT 251 a real pleasure to use.

Installation is fairly simple and can be done by anyone with with basic tech skills in about 4 hours. Your original black housing, front panel (with EMT logo), and side mount pieces will be re-used. The illustrated 12 page manual gives clear, step by step instructions. You take off the top assembly, remove the old display, and unsolder two wires. The PCB is removed and the new PCB and display are installed, using a cable adapter. Now four DIP switches are set –– three select the display time out mode and the fourth selects "250 or non 250" software. Reinstall the top assembly, and you're done! Includes new PC board with display, adapter cable, and installation manual. Note: very early 251's (S/N 47883 and lower) have no connector for the display and to replace it, a 26 pin connector must be added. If you have this early version let us know -- we'll provide instructions and include the new connector.

If you're an 251 owner in Southern California and you'd rather that we do the upgrade, it's not a problem. Cost is approx. $500-$750, depending on the version of the unit, and whether other work is needed. For more information, please contact us.
Currently there are no reviews for this product. Share your opinion with others, be the first to write a review.