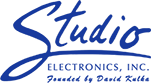 Your cart is currently empty
Top Quality 20' headphone extension, Gold Locking Conns
SKU:
HEADPHONEEX
Stock:
1
Here's a super high quality headphone extension cable, 20 feet long, with a gold plated 1/4" TRS male connector on one end, and a rugged Neutrik locking type 1/4" female TRS. This cable is Columbia 01302, 20 gauge twisted pair with a braided shield, in a heavy duty rubber jacket.

Our cables are hand made in America with Columbia 01302 Rubber Jacket Cable, and Neutrik connectors. Columbia 01302 Rubber Jacket Cable is highly immune to hum and interference, and has no handling noise. It's flexible, satin smooth to the touch and extra strong. They are rugged and are built to deliver many years of top quality performance. They are excellent interconnects for outboard gear, amps, and recorders.

* Hand assembled at our Shop in Burbank, USA
* Columbia 01302 Rubber Jacket Cable
* No of conductors: 43 (Twisted pair, shielded)
* Conductor: 20 AWG high current, low loss
* Braided Copper Shield
* Flexible in Extreme Cold Weather
* Rugged and durable, resistant to damage from being stepped on, being folded, dolly wheels, you name it!
* Gold plated male connector
* Locking female connector
Currently there are no reviews for this product. Share your opinion with others, be the first to write a review.