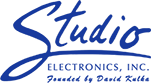 Your cart is currently empty
100K Audio Taper Pot, UREI LA-2A, LA-3A or 1176LN Rev. F/G/H/K. U2
Exact replacement 100k audio taper pot. It is an exact replacement for the Peak Reduction pot on all versions of the UREI and UA LA-2A, LA-3A, and can also be used as an exact replacement pot for the Output control on UREI black face 1176LN revision F and the silver face Rev G, H, and K models. This pot is not used in the UA 1176LN reissues.
Includes ground lug, lock washer, and hex nut. Solder terminals are tinned.
Currently there are no reviews for this product. Share your opinion with others, be the first to write a review.