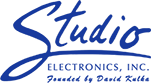 Your cart is currently empty
24" CABLE CRAFT Adapter cable kit Lugs-TRS for UREI LA2A LA3A 1176
24 inch CABLE CRAFT Adapter cable kit. Lugs-TRS, for UREI LA2A LA3A 1176, etc.
Lugs are marked + and - to help you avoid phase reversals. A termination assembly with a metal film resistor is included for proper matching older 600 ohm gear. We also include a handy guide with guidelines for termination of vintage 600 ohm gear.
Here are the specs:
Cable:Mogami 2534 Neglex Quad.
Length: 24 inches.
Connectors: Neutrik gold plated TS
Lugs: #6 insulated fork lugs, with terminations crimped and soldered.
Termination resistor: 604 ohms, metal film, 1/2 watt, 1% tolerance.
This quality interconnect is American made using the best components. It is rugged and is built to last. Twenty years from now there is a good chances your valuable vintage unit will still be in use, with our adaptor and resistor still connected to it!
A note about the termination resistor. Transformer outputs on vintage tube gear (and some early solid state) are usually designed to drive 600 ohm inputs. However, the inputs on modern audio gear are bridging, with an impedance of 10k or more. Connecting a 600 ohm transformer output to a 10k inputs tends to cause ringing, with a slight high frequency bump. The termination resistor will correct this problem and allow the output circuit in your gear operate the way it was designed to.
Currently there are no reviews for this product. Share your opinion with others, be the first to write a review.