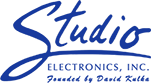 Your cart is currently empty
Eventide Instant Flanger FL201 recap cal'd sounds great
SKU:
EVENTIDEFL201
Stock:
1
Before purchasing:
Please phone or email us to confirm availability.
Here is the rare and very cool Eventide Instant Flanger, model FL201. This unit, serial number 20308, has 1 input, 1 Main Output and 1 Aux (out of phase) output for simulated stereo.
Eventide was one of the earliest manufacturers in America of time domain processors. Flanging was accidentally discovered at Gold Star studios in Hollywood when an engineer inadvertently summed the outputs of two tape machines that were slightly out of sync.. The resulting sound was truly unique; the now classic "jet plane" effect. The Instant Flanger, built from 1976 until 1984, used analog delay "bucket brigade" ICs to delay the signal and create the same effect. Many other manufacturers, especially "stomp box" pedal companies, attempted to copy the design of many of Eventide's ground breaking products, including the Instant Flanger.
The Instant Flanger offered operation modes that far exceeded most other manufacturers. In addition to the usual modulated flanging, it has an Envelope Follower mode, Manual mode for dialing in specific fixed sounds, and External control, which was originally designed to take control voltages from early modular synthesizers for really creative effects.
All electrolytic and tantalum capacitors in the audio path and power supplies have been replaced, and should work well for many years to come. The unit has been fully calibrated and all specs have been confirmed. Cosmetic and mechanical condition are excellent. The circuit board and internal electronics are in very good condition.
A copy of the owner's manual is included. Note: this unit is currently set 115 VAC but can be internally modified for 240 VAC operation. Three brand new, high quality XLR adaptor have been added.
Currently there are no reviews for this product. Share your opinion with others, be the first to write a review.