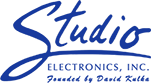 Your cart is currently empty
Dual Rack Mount kit for black face UREI LA-3A LA-4, etc. UY
SKU:
DUALRACKBLK
Stock:
11
Please note: this rack kit has BLACK rack ears, and is meant for racking black face UREI gear such as the LA-4. We also make a kit with silver rack ears for silver face LA-4's, etc. If you need the silver face kit, please check our other store listings, or contact us. Thanks!
For sale is a complete kit, manufactured by Studio Electronics Inc., for joining and racking two UREI 2 RU "half rack" units. The rack ears are brushed and anodized black. The pieces are of high quality and total kit looks very sharp when installed. These are most often used on black face LA-3A's and LA-4's, but they also work on all other UREI 1/2 rack black face models.

Included are:
1. Two 3.5" rack ears, brushed and anodized black.
2. 2 spacer bars with screws and washers, for installing the rack ears.
3. 2 joining plates, for fastening the tops and bottoms of the units together.
4. 10 spare sheet metal screws. (If your UREI pieces have all the original hardware you won't need these but if you're missing some of the screws, which is common, you'll thank us!)
Currently there are no reviews for this product. Share your opinion with others, be the first to write a review.