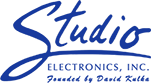 Your cart is currently empty
Marshall 5402 Time Modulator, Near Mint, Full Recap/Refurb, Works/Sounds Great!
SKU:
2-Mar
Stock:
Out of Stock
"
Here's an excellent example of the very rare Marshall 5402 Time Modulator, serial number PL1179. This model is similar to the famous and wonderful Marshall 5002A, but features greatly extended delay times and redesigned, more intuitive, front panel controls. It produces all the amazing sounds of the 5002A, and does even more.

This is first 5402 Time Modulator that we will have for sale in a long time. They are VERY hard to find. It's in excellent cosmetic condition and has the rare black and red top cover, silkscreened with a block diagram of the 5402's signal flow.

At the 1975 AES Convention in New York, Steven St. Croix showed his prototype 5002 Marshall Time Modulator. The brilliant and unique analog effects box was an instant hit. Studios, record labels, and engineers were dazzled and ready to buy, but Steve devoted four more years to improving and perfecting the 5002 before bringing it to the market. The first 5002's were used Stevie Wonder, who Steve collaborated with on the ""Songs In The Key Of Life"" and ""The Secret Life Of Plants"" albums. Steven's company, Marshall Electronic, lined up a roster of distributors, went into full scale production, and the Marshall Time Modulator quickly achieved fame as one of the first -- and one of the all time best -- studio effects boxes.

For anyone who's not familiar with this classic box, the MTM produces ultra high quality time related effects like positive flanging, negative flanging, cardboard tube echo, automatic double (and triple) tracking with pitch and delay dithering, resonant flange, straight vibrato, ""circus vibrato"", arpeggio, pitch quantizing, high Q filtering, drum tuning, echo, Leslie, doppler panning, etc. The MTM scored rave reviews in Studio Sound and Modern Recording and has been featured on scores of hit records. We've sold many 5002's from Steven St. Croix's estate, and without exception, the new owners love them. If you look out through ebay feedback you'll see some great comments about them.

The earlier and more often seen 5002A included 2 analog delay modules, with a maximum of 52 milliseconds each. The 5002 includes one of the original 52 ms. delay modules (which is used on all the Flange effects) but the second delay module is 400 milliseconds. With this greatly extended delay time, many additional effects and sounds are unleashed.

The two ""black box"" delay modules, of Steve's design, are the heart of the 5402. Delay times are governed by a combination of manual and automatic controls. The short delay produces most of the time and frequency shift effects. The 400 ms. delay enhances and ""triples"" the MTM's effects; variable feedback creates resonant and metallic qualities that range from subtle to absolutely bizarre. By combining various parameters, a wide range of excellent effects can be created. Flanging -- the so called ""jet plane"" effect -- is probably the most popular effect offered, but this versatile box will do all kinds of stuff, both subtle and wild, and is great fun to experiment with. Unlike digital delays, the MTM features continuously adjustable (non stepped) delay time, smoothly controlled by a rotary pot. Both the time delay pot and the aux delay pots are special parts with custom tapers, so that in manual mode, an even hand rotation of the knob produces smooth, musical sweeps.

Again, the unit is in outstanding, like new cosmetic condition. We're including a brand new power supply (120 or 240 volts) with XLR in and out cables, along with a copy of the owner's manual and a demo CD.

It's worth repeating that Time Modulators are analog units, totally free of quantization noise and other digital artifacts. It has a dynamic range of 90 db and it's reliable circuitry runs very cool inside. The unit features extended frequency response and an ultra wide dynamic range, with no audible background noise.

Front panel controls include input level, time delay, feed through (""dry"" signal), feedback, ""A"" and ""B"" delay output levels, a time CV attenuator (which varies the blend of manual and VCO delay control), Flange / Delay select, two 3-position Delay Range switches for Flanges and Delays, and a Sine / Square switch for the LFO generator.

Specs:
Frequency response; 15 Hz. to 15 kHz (less at the longest Flange settings)
Input impedance; 30k ohms
Nominal output level; +4 dBm
Signal to noise ratio; 72 dB
Total dynamic range; better than 90 dB
Power input 120 volts or 240 volts, 50/60 Hz.
Input and output; unbalanced, 1/4"" jacks on front panel and XLR connectors on power adaptor cable
Date of Manufacture: 1980

(If you want to take a listen and hear Steve put a 5002A Time Modulator through its paces, an MP3 of this recording can be found on our website at http://studioelectronics.biz/Services-Marshall-13.html)

This unit is fully guaranteed for 90 days. Shipping within the continental U.S. is by Fedex ground. For other locations, please contact us for a shipping quote before buying.

Steven St. Croix passed away in 2006, leaving a remarkable legacy of contributions. Many in pro audio never saw a Marshall Time Modulator but nearly all of us knew his Fast Lane columns, which ran in Mix Magazine for 18 years. As a member of the National Archives advisory committee, Mr. St Croix proposed a tape machine with 200 heads to extract audio from the infamous 18 1/2 minute ""Watergate"" tape, which contained an erased conversation between Richard Nixon and H.R. Haldeman. His ""revectoring"" technique was used to restore audio on classic films like The Wizard of Oz, Easter Parade, and Yankee Doodle Dandy. In the mid 90's he founded Intelligent Devices. The firm specializes in forensic audio products.

In 2006. Studio Electronics signed an agreement with the estate of Mr. St. Croix. We have been refurbishing a small number of used and ""new old stock"" 5002 and 5402 Time Modulators, and AR-300 Tape Eliminators that were left to the estate. We service these products using the original parts and calibration procedures. We also offer Marshall power supplies, and perform upgrades for older units. Please contact us if you're interested in any of these products or services.
"
Currently there are no reviews for this product. Share your opinion with others, be the first to write a review.