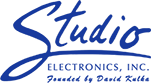 Your cart is currently empty
Gotham 10008 GAC-1 Black Unbalanced Instrument and Hi-Fi Cable
SKU:
10008
Stock:
350
Colors:
Black
Unbalanced Instrument and HiFi cable. Light and slinky, double shielded, 48 strand conductor. Conductive PVC layer for low microphonics, double Reussen shields, red jacket.
1. RF protection via double Reussen shield
2. Low Microphonics A conductive PVC layer over the conductors insulation, allows any static build up to leak to the shield and be grounded before it has any harmful effects (refer to item 5 of figure).
3. Jacket A thick yet tough and flexible jacket protects the cable.
Due to its quiet behaviour and high strength, Gotham GAC-1 unbalanced cable is ideally suited for live applications such as guitar leads; it is equally suited for static applications such as a phono interconnect lead.
Construction:
1 = Jacket: PVC, Ø 5.3mm
2 = Viscose fiber coat: Counter wrapped to the shield
3 = Shield No. 1: Bare copper wires (0.10 mm) 100% coverage
4 = Shield No. 2: Bare copper wires (0.10 mm) 100% coverage
5 = Layer: PVC, conductive
6 = Insulation: PE, Ø 1.25mm
7 = Conductor: Stranded bare copper wires 48 x 0.07mm (0.20mm²)
Technical specifications:
Conductor resistance: < 90 Ohm/km
Shielding resistance: < 28 Ohm/km
Capacitance: <146 nF/km
Test voltage: 1000 Veff (2 minutes)
Temperature range: flexi-installed: -5° to +50° C
fix-installed: -30° to +70° C
Currently there are no reviews for this product. Share your opinion with others, be the first to write a review.