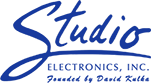 Your cart is currently empty
Quantec QRS XL QRS/XL Owners Manual & Boot Disk for PC
If you own a Quantec QRS/XL, here's a large, complete owners manual, along with a boot disk for with the software that enables control from a host PC.

Software sections of the 118 page manual include Hardware Terms, Software Terms, Problems with Computers, Installation of the XL Programs, Files on the XL Diskette, Making a Safety Copy, Installation on Hard Disk, Installation on Diskette, Installation of (N)ANSI.SYS, Connecting a Mouse, Starting the Program, Input Masks, Functions of the Program, Function Keys, Installation of more than two XL's with a single PC, Short Form Survey of Input Possibilities, and Error Messages.

Hardware sections include The QRS/XL Hardware, Installation and Connection,
Standalone Operating Mode, User's Database, MIDI Control, RS-232 Control, Controlling the XL with <ESC> Sequences, Downloading Executable Code, Downloading DSP Code, Runtime Flags, The QRS Assembler, and Technical Specifications.

Factory Provided ROM Presets include Nine Small Rooms, Eleven Medium Rooms, Five Large Rooms, Five Plates. Two Reverberation Sets, Eight Gated Reverbs, Three Enhance Effect Variations, Six Soft Attack Variations, Two Delay Effects, Ten High Performance FIR Filters, Five Special Effects, Five Chorus Effects, Three Panning Effects, and Eight Flangers.

The software requires a IBM PC XT AT or compatible computer with at least 320 KB of memory, at least one disk drive, at least one RS-232 port, and PC-DOS or MS-DOS version 2.0 or higher.

The disk is guaranteed to contain a proper copy of the needed files. We have tested each disk with a QRS/XL and PC but cannot offer any technical support with software or hardware setup.

Currently there are no reviews for this product. Share your opinion with others, be the first to write a review.