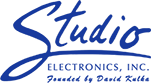 Your cart is currently empty
Telefunken TAB V76m SE 4-Ch rack Preamp, super quality!
SKU:
TELEFUNKEN RACK
Stock:
3
The Telefunken V76m tube mic preamp and the other preamps in the V76 range are, in our opinion, the best ever built. The outstanding build quality, extraordinary audio transformers, ultra flat response, super quiet S/N ratio, the amazing precision of the controls, and fantastic sonics put these preamps in a class of their own. We've refurbished quite a lot of these preamps in recent years, and are constantly amazed by their phenomenal quality.
In 2009 we at Studio Electronics set out to design and build a top quality rack for the V76m that would match its extreme quality and be a perfect companion product. Looking at other racks that were available, we saw that many suffered from disappointing quality and in some cases, had design shortcomings that could damage a Telefunken preamp. Our first run sold out quickly and customer feedback was extremely positive, so we have built another limited production run.
Among many features of this great rack:
1. Full compatibility with all V76, V76m, and most other variants of the V76 series. (Note: the V76s type has a slightly different pinout so to use that version, the module or the rack will require a small wiring change.)
2. The female Tuchel sockets float on the rear panel, to accommodate small variations in module dimensions and prevent damage to the module.
3. Each channel includes a Phase Reverse switch, Phantom Power on/off switch, 20 dB Pad, and Output Trim (with 20 dB of range).
4. Whenever phantom power is switched on or off, or main power is switched on or off, a soft start circuit slowly ramps the phantom voltage, to prevent damage to the sensitive mic transformer. (This essential safety feature is missing from many Telefunken racks.)
5. Each module is powered with 220 volts AC, as specified by Telefunken. (Many other Telefunken racks use 240 volt power, which causes excess heat and noise, and shortens the life of the modules!)
6. Mains and Phantom power utilize toroidal transformers, which do not create any noise or electromagnetic interference.
The top and bottom covers each include two perforated panels, allowing cool air to enter from below, and hot air to exit from the top. For durability, all labeling on the front and rear panels is engraved and hand painted, not just silkscreened. Telefunken modules are heavy (nearly 12 pounds each) so we made this rack strong and tight, to safely house or transport a full set of four.
The rack is 8.75 high (5 rack units) and 16 deep. Weight is about 20 lbs. (30 lbs. packed).
It is wired for 120 volts, but may be internally re-strapped for 240. A U.S. power cord is included. All the metalwork is brushed and grained aluminum, anodized clear.
Please note: no V76m module is included. The module in the photos is only there to illustrate the appearance and fit of the rack.
Shipping is by Fedex ground within the continental U.S., USPS priority mail to other countries. Local pick up is fine. If you have any questions or want the shipping cost to your location, just let us know.
Currently there are no reviews for this product. Share your opinion with others, be the first to write a review.