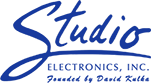 Your cart is currently empty
New Cinemag CM-DBX Mu-Metal Shielded 11.52:1 Direct Box Transformer. C5
New Cinemag CM-DBX Direct Box Transformer. Converts unbalanced line level signals to balanced mic level, drives long cables without HF loss problems. Can be driven from moderately high impedance, as well as low impedance sources. Encased in mu-metal can with 30 dB of magnetic shielding. A copy of the manufacturer's wiring diagram is included.
Specifications:
Turns ratio: 11.52:1.
Voltage gain -22 dB.
Distortion @ 1kHz., +12.5 dBu .0015%. Distortion @ 20Hz., +4 dBu: .04%.
Response: 20 Hz. -.1 dB, 20 kHz. -.01 dB
CMRR @ 60 Hz. 105 dB, CMRR @ 1 kHz. 90 dB
Currently there are no reviews for this product. Share your opinion with others, be the first to write a review.