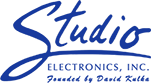 Your cart is currently empty
AMS DMX 15-80S Delay Harmonizer, 3.2/1.6 Sec., Full Refurb, Looks/Works Great!
SKU:
AMSDMX
Stock:
Out of Stock
Please call us:
for more details
For sale is a great sounding AMS DMX 15-80S stereo delay and effects unit, serial number 3113. The unit been fully refurbished and serviced in our shop.

It has pitch changers on both channels, and lock in (sample / edit) on Channel A. Modes include dual delay, dual pitch change, dual lock-in, flanging, VCO vibrato, and automatic double tracking.

The memory, precisely controlled from the front panel, has 3.2 seconds on the left channel and 1.6 seconds on the right, and includes a deglitch card (missing from some early DMX's). The chassis includes the later, higher current 5 volt regulator; all the electrolytic capacitors in the power supplies have been replaced. The unit runs at 115, 220, or 240 volts, selected by a voltage selector on the rear panel.

All power supply electrolytics have been replaced and the unit has a new fan. All settings are stored in battery backup RAM; the unit has a fresh battery. All the internal ribbon cables have been replaced with new ones. The front panel is in good condition but the corners and rack holes have some dings and rash.

We will include a complete in-house copy (not original issue) of the original owner's manual and a power cord.

Our shop is fully set up to service AMS gear with extensive documentation and spares in stock, and we know these units inside out. In the unlikely event that something goes wrong, we'll service your unit and get it back to you promptly.

AMS effects units show up at least once a week on ebay. Why should you buy yours from Studio Electronics?

1. Reburb and testing: every AMS that we sell has been been thoroughly serviced and tested. Any marginal components are replaced and the 10 or so all important ribbon cables are replaced with new ones. The unit is thoroughly tested and then run for several days. The power supplies are thoroughly serviced and checked. (Normally we charge $800 for this service.) An AMS purchased from us has been given a new lease on life and is likely to be trouble free for many, many years.

2. Marginal parts: Since we refurb so many AMS's, we know what to look for. If the fan runs slow we know the unit will run hot, and we replace it with the exact same, quiet running part. If a switch is bent or noisy or if pot is faulty, we replace it. If an PC card connector is worn, we replace it. If a fastener is missing from the top or bottom cover, we replace it.

3. Function and specs test: most AMS sellers on ebay don't check all the features of these machines. Before listing this DMX on ebay we checked lock in, loop editing, the mix functions, etc.

4. Support: if something goes wrong, we'll get you taken care of quickly. Our shop stocks hundreds of spare AMS boards and keeps several working units on hand. Next week or next year, if there's a problem, call us. We'll be glad to help you out, and will do so quickly.

Here's your chance to own a truly legendary, great sounding piece of outboard gear. AMS began producing their DMX delay and RMX reverbs in 1979, and continued manufacturing until about 1985. These two products were a huge hit in the pro audio industry, and were used on thousands on huge hit records. The sonic quality trounces any Protools plug in out there -- there's something about these units that just sounds incredibly good.

SPECIFICATIONS
Inputs: 2 XLR inputs, electronically balanced, 10K impedance.
Outputs: 2 XLR outputs, electronically balanced, 150 ohms impedance.
Maximum gain: 20 db. Maximum output level: 24 dbV.
Distortion: Less than .035% at 1khz full output. Dynamic range: 90 db.
Frequency response: 20 Hz to 18 kHz -3db, + 0db

Thanks for looking and please contact us with any questions.