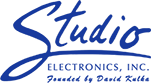 Your cart is currently empty
New MIEC 220UF 160V 105C Axial Electrolytic Capacitor
"
New stock 220 UF 160 VDC 105 degree C Axial Electrolytic Capacitors. Standard polarized capacitors with long leads, ideal for recaps of vintage radios, TV's, guitar amps, and audio equipment.
SPECIFICATIONS:
Working Voltage: 160 VDC
Surge voltage: 200 VDC
Capacitance Tolerance: +/- 20%
Operating temperature: -40C to +105C.
Dissipation Factor: <0.20 @ 20C/120Hz
Ripple Current: 495 ma rms
Dimensions: 16mm by 41mm (11/16"""" by 1 1/2"""") ZZZ
Lead type and length: Tinned copper-ply, 40mm (1.5"""")
Type: Polarized
Manufacturer & Series: MIEC KT
"
Currently there are no reviews for this product. Share your opinion with others, be the first to write a review.