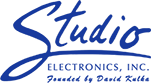 Your cart is currently empty
1 AMS Momentary key switch for the RMX (black, with red LED)
1 Replacement Front Panel Key Switches With LED For AMS RMX16 Reverb. Please note that these switches are slightly different in appearance compared to the original RMX switches but are completely compatible.
These switches are a very common failure on the RMX16. If one switch is found to be bad, we recommend carefully testing all 10 with an ohm meter. When we service these units, if we find that 3 or more switches are faulty we generally replace all 10, to prevent future problems.
Please note; when replacing these switches great care must be used or damage may result. The PC board foils on the front panel PCB are very fragile and can be torn by poor soldering or handling. The switches must be positioned carefully so they don't rub against the front panel cutout. In addition, the mounting hardware for the RMX16 front panel includes many nylon insulating washers, and these must all be reinstalled in the original locations.
Currently there are no reviews for this product. Share your opinion with others, be the first to write a review.