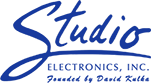 Your cart is currently empty
New Dual Rack Mount Kit for dbx 160 and 161 limiters. DY
SKU:
DBXRACKMOUNT
Stock:
1
In our capacity as a dbx service center and specialist in vintage dbx gear, we have had many inqiuries over the years from people needing a dbx rack mount kit for their 160's and 161's. The original dbx kits have been unavailable for many years. Well, we finally had a batch of them fabricated, and they are now available for sale.

These kits allow you to mount two dbx 160's or 161's in a standard 19 inch equipment rack. Included are two steel side pieces, two aluminum top and bottom covers, along with four long threaded rods and eight black hex nuts. The sides and covers are painted with black powder coat and the finished assembly looks almost exactly like the original dbx kit. Installation is simple. Slide the top and bottom covers into your dbx units, then fit the threaded rods into place, centering them into position. Install the two end pieces and then fasten the hex nuts - that's it. The lower portion of the photo shows one of our rack kits installed on a pair of 160's but of course, this listing includes the rack kit only - not the actual units.

We're sorry, but we've had to price these kits higher than other rack kits that we offer, due to production costs for the small run that we built, and a LOT of running around time that went into this project.

The kit is shipped in a large carton with a generous amount of packing material, to accommodate the large cover pieces and protect the kit in transit.

Vintage dbx gear is one of our specialties and we carry most parts for the original 160 series. We have meters, transformers, RMS detectors, VCA's, XLR adaptor cable kits, and most other parts. (We don't have knobs or the rectangular black button in stock, but we're working on it!) Of course, we also provide expert repair and restoration of these units, and usually have refurb'd units for sale. If you're looking for dbx 160 series parts or gear, please let us know.
Currently there are no reviews for this product. Share your opinion with others, be the first to write a review.