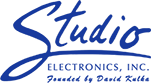 Your cart is currently empty
New Meter Bezel Mount For Modutec VU Meters For All UREI and UA 1176LN LA3 LA4 1178. UL
Here is a replacement meter bezel for all UREI and UA 1176LN, LA3A, LA4, and 1178 limiters, and other UREI products with Modutec VU meters. In these vintage models, the bezels often break due to age, rough handling, etc. This new bezel will replace the old broken ones and dress up the front panel a little. Included is a black plastic rectangular frame assembly with two metal ears, two threaded mounting ears, and two set screws. It can be used on the UA reissue 1176LN and LA-3A, but not on the older Blue Stripe 1176.

These bezels will work on both of the types of Modutec VU meters in UREI gear -- the older black type with a separate light bracket on top, and the newer white "light box" meters with internal lamps. Replacing the bezel takes about 15 minutes and does not require special tools (though it helps to have steady hands). Please note that these bezels have plastic frames. Some older UREI pieces have metal bezels, but these are no longer available.
Inside dimensions of the bezel are 2 3/4 W x 1 3/8 H. Outside dimensions are 3 1/8 W x 1 3/4 H. The cutout dimensions for installation are 3 by 1 5/8.
If you need replacement lamps, please add the item two UREI Black face #1819 lamps or two UREI Silver face #387 lamps to your order. (Black face and silver face models use different lamps.) We also sell replacement VU meter covers (with clear plastic window and black adjustment screw).

Many people ask us about replacement VU meters. At this time, new replacements are not available, but we hope to have a batch manufactured by the end of the year. In most cases, we can repair faulty UREI VU meters for $150 plus return shipping. Please contact us for details.

Studio Electronics Inc. offers a complete range of repair and restoration services for nearly all UREI, UA, and Teletronix models. We stock nearly every single part used in all these models including T4B's, pots, knobs, you name it. In 2006, Universal Audio designated us as their primary recommended service provider for UREI classic gear. (Thanks, UA!
Currently there are no reviews for this product. Share your opinion with others, be the first to write a review.