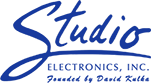 Your cart is currently empty
2 Recapped Refurb'd dbx 303 Cards Marshall Time Modulator, Tape Eliminator. DM
For bench techs and DIY'ers, here's a set of 2 of recapped and calibrated set of 3 dbx 303 Type II noise reduction cards. These cards were used in the Eventide H910 and H949, Marshall Time Modulators, Marshall Tape Eliminators, and other products. Many times when these products fail, the dbx cards in the units are faulty.

This listing is for a set of TWO cards. For Eventide models we also have sets of three cards (one encode, two decode) available in a separate listing.

Most of these dbx, Eventide, and Marshall models used dbx 303 Type A cards -- these are the early version (identified by the 4 vertical trimpots on each card) and they are very unreliable. When we encounter gear with these older cards, we dispose of them and install later version cards like the ones in this listing.

This card set is the result of a service regimen that we have developed for servicing Eventide and Marshall gear. The cards for sale have been recapped, fully serviced and calibrated, adjusted for minimum distortion, and grouped in matched sets of 2 for Marshall models. This is a VERY labor intensive process.

For Marshall Time Modulators and Tape Eliminators, one card is used for he input (encode) and one cards are used for the output (decode). The photo shows 2 typical cards. The cards you receive from us may differ slightly in appearance, but they will be exact replacement cards, in excellent condition.

If you're a DIY'er, you'll need to study a schematic to understand jumpering and options for the use of these cards. All connections are via a 12 male Molex pins. The card requires +/- 15 volts DC. The dbx system has the capability of doubling dynamic range in outboard gear and recording systems. If you have an analog system with a dynamic range of 40 db, the dbx system will increase it to 80 db. Thanks to the ingenious RMS Detector circuit, accuracy of the dbx system does not require any kind of matching or precise calibration of encode and decode levels. We will include schematics upon request.
Currently there are no reviews for this product. Share your opinion with others, be the first to write a review.