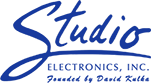 Your cart is currently empty
Cinemag CM-13101 Mic Output Transformer For Neumann U47 FET & Similar Models. C14
New Cinemag CM-13101 Mic Output Step Down Transformer For Neumann U47 FET & Similar Models. Uncased, for mounting inside a microphone. This transformer was developed as a replacement transformer for Neumann FET47 style microphone circuits. Its distortion level is lower than the original transformer, but it exhibits a similar THD at Fixed Frequency curve shape. It can be used with other microphone output circuit topologies requiring a 9.0 : 1 turns ratio. Employing a hum-bucking design, its capability of rejecting stray magnetic interference is good.

9.0 : 1 (16.2K : 200) Step-down FET47 compatible
Faraday shielding
Hum bucking design
Good bandwidth (- 3 dB at 100kHz)
Enriched harmonic characteristics

Please see the attached image (above, in photo section) for complete specifications.
Currently there are no reviews for this product. Share your opinion with others, be the first to write a review.