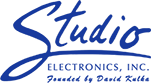 Your cart is currently empty
Altec 1591A High gain Mic Preamp / Mixer / Compressor, Full Refurb, Works Great!
SKU:
3640
Stock:
Out of Stock
For sale is a fully recapped and refurbished Altec 1591A High gain Mic Preamp / Mixer / Compressor. This is a unique and very practical solid state unit manufactured in the 1970's.

The unit has separate mic and line inputs that can be used independently and mixed together. The mic pre has a whopping 90 db of gain, something rarely seen in pro audio gear. This makes it a great choice for ribbon mics and other applications like foley, percussion, nature sounds, and other low level recording situations that require large amounts of gain. The line input is also very sensitive, with 40 db of gain. This means that the line in can actually be employed as a second mic input, if used with a dynamic mic in moderate gain applications.

The compressor uses an optical gain reduction element, similar to the LA-2A / LA-4 designs. GR ratio is selectable, 10:1 or 5:1. Release time can be set to .5 or 1.5 seconds. The line input and main output are transformer balanced. The unit is a portable design and can be powered by a 12 or 24 volt battery. New XLR cables are included for the line input and line output, along with a copy of the owner's manual (schematic included).

All the electrolytic capacitors in the unit have been replaced and it has a new power transformer. The unit was carefully tested and works great. This is a rugged well built model, and is likely to work trouble free for many, many years.

Mains Voltage: 115 VAC.
Audio I/O: one balanced XLR mic input, one transformer balanced line input, one balanced XLR output.
Noise level: -120 dbm equivalent input noise at mic input
Maximum compression: 35 db
Gain: Mic Input 90 db, Line Input 40 db.
Currently there are no reviews for this product. Share your opinion with others, be the first to write a review.