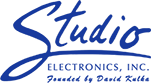 Your cart is currently empty
AMS Neve Chorus Controller for DMX 15-80S, Excellent Condition, Works Great!
SKU:
3641
Stock:
Out of Stock
For sale is an AMS Chorus Controller for the DMX 15-80S and S-DMX models. This cool accessory adds interesting functionality and effects to your DMX delay. The primary function is the chorus mode. In this mode the unit adds an algorithm to your DMX that creates convincing chorus and doubling effects. Both outputs of your DMX are given slight pitch and time delay changes, that mimic the effect of a real vocal double. The Chorus Controller takes advantage of the fact that a second human voice tends to drift slightly in time and pitch when singing harmony, and generates a similar, random effect. Speed and depth of the chorus are adjusted with controls on the front panel of the Controller. If you watch the display on the DMX while the Controller operates, you see the display rapidly dithering up and down in very small increments. Of course, the Controller can also be used to create all sorts of weird and interesting effects for guitars, keyboards, and other tracks.

It's in excellent cosmetic condition with just a few very light scratches on the top cover. The front panel looks great. Guaranteed not DOA!

The Chorus Controller can also be used as a remote control for the pitch changers in a DMX. The DMX only has Nudge push buttons for the pitch changers, but the Controller lets you adjust pitch over the full range with rotary pots.

The Chorus Controller has another neat function -- you can use it as an interface to control your DMX from any analog synth with DC control voltages, such as a Moog. We've never heard this function in action, but if you have a DMX and an older analog synth, I'll bet you could create some pretty cool sounds!

Included is a power cord and a copy of the 2 page user guide. The unit has a power selector on the rear panel with settings for 115 and 230 volts.

About half of the DMX units out there will work with a Chorus Controller. If yours has a female 25 pin D Sub connector on the back, it's probably compatible. To check yours, take the cover off and see whether the D Sub on the back is connected via a ribbon cable to the main group of circuit boards. If it is, your DMX was set up to operate with Chorus Controllers and will probably work fine.

Our shop is fully set up to service AMS gear with extensive documentation and spares in stock, and we know these units inside out. In the unlikely event that something goes wrong, we'll service your unit and get it back to you promptly.


Currently there are no reviews for this product. Share your opinion with others, be the first to write a review.