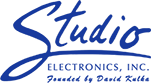 Your cart is currently empty
dbx 202C Gold Can VCA Module for dbx cards, SSL MCI Sony etc Tested, Warranty DE
SKU:
3650
Stock:
Out of Stock
Original dbx 202C Gold Can VCA module, carefully tested and fully guaranteed. The leads are about 3/16 long. This module was used in many dbx products and MCI, Harrison, and SSL console automation systems. Applications included many of the dbx 900 series modules and dbx compressors, SSL, MCI, Harrison and Sony consoles, etc. A copy of the original dbx datasheet will be included with each VCA. Some of these modules have scratches on the labels and/or cans.

Specs are:
Supply voltage: +/- 15 VDC
Gain range: -100 to +40 db
Gain control constant -50mv/db
Gain at Ec = 0v: 0 db +/- 1 db
Currently there are no reviews for this product. Share your opinion with others, be the first to write a review.