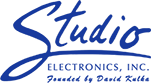 Your cart is currently empty
Elma 04-3130 Trident A Range 3-Pole Gold Rotary Switch 2 Through 24 Positions SE
NOS Elma #04-3130 3-Pole rotary switch. with gold flashed contacts and terminals. Three decks, each of the 3 decks is 1 pole, 2-24 positions.

This switch can be set for any number of positions, as needed -- 2, 3, 4, 5, 6, 7, 8, 9, 10, 11, 12, 13, 14, 15, 16, 17, 18, 19, 20, 21, 22, 23, or 24 positions.

To set the number of positions a special screw post (one included with each switch) is installed in one of the 23 small holes near the top of the switch, using a small screwdriver, (A greenie, jewelers screwdriver, or trimmer alignment screwdriver will work well.).

Bushing is standard 3/8 diameter, 3/8 long. Shaft is 1/4 diameter, 5/8 long. Body of switch is 1 3/16 wide, 2 3/8 long. The stops are at 15 degree intervals.

These are top quality precision switches for pro audio recording and audiophile applications. They are exact replacements for the Elma switches that were used as input attenuators in many Trident A-Range input modules. The large number of poles and positions allow great flexibility in level steps and impedance matching for high custom projects.

These are expensive switches. Retail price is $106.00 each.


Currently there are no reviews for this product. Share your opinion with others, be the first to write a review.