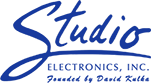 Your cart is currently empty
Sony DRE-2000 Digital Reverb Schematics Layout Drawings
Sony DRE-2000 Digital Reverb Schematics and Layout Drawings This is a carefully made copy of the original Sony manual.

Some comments about the manual (and the unit itself!):

It is approx. 30 pages. Most of the pages are large fold out sheets. Includes component layout drawings and Schematics.

Even though the cover page says Operation and Maintenance Manual, this manual does not include any user or service instructions. What is included is the schematics and component layout drawings for the frame and the large circuit boards in the DRE-2000.

Sony made at least two versions of the DRE-2000 and some of the documentation in this manual may be incorrect for your unit. I don't have any further documentation on this model. Sorry!

These are VERY TOUGH models to service, due to their complexity and unavailability of a circuit board extender. We salute anyone who attempts to repair one of these, but unfortunately, cannot offer any help or support with them.


Currently there are no reviews for this product. Share your opinion with others, be the first to write a review.