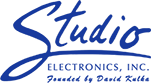 Your cart is currently empty
2 Aphex 124 -10 / +4 Stereo Interfaces Synths, PC, Tablet DVD CD Phone Etc. AH
SKU:
Aphex.124.2
Stock:
1
"
2 used, racked Aphex 124 -10 / +4 2-Way Amp Studio Interfaces. These units will properly interface your Synthesizer, Mac, PC. iPad, Tablet, DVD Player, CD Player, smart phone, etc. to any +4 balanced device in your pro audio system -- mixers, converters, EQ's, compressors, etc.

The 124 is a bidirectional interface for matching stereo unbalanced -10 consumer, stage, and ""prosumer"" gear to +4 balanced or unbalanced studio equipment. The step up section has 2 RCA jack inputs and 2 XLR male outputs, with 2 level trims on the front panel. The step down section has 2 XLR female inputs and 2 RCA outputs.

These units work great for converting unbalanced synth outputs to +4 balanced. Basically, any piece of gear with 1/8"", 1/4"", or RCA plugs can be adapter for use with pro audio gear. It's easy to use and install. Just plug your low level unbalanced gear into the RCA jacks, and plug your studio gear into the XLR jacks.

These units have been carefully tested for frequency response, signal/noise ratio, level match, etc. We're including a copy of the original user guide along with a schematic and block diagram. Mechanical and cosmetic condition is good. The units operate on 115 VAC power. For users outside North America with 230 volt power, an external transformer is needed.

We have a few optional rack mount kits for this item, at additional cost. Also, we have a few dual units that are racked together. If interest, please let us know at time of purchase.
"
Currently there are no reviews for this product. Share your opinion with others, be the first to write a review.