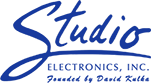 Your cart is currently empty
Replacement DS1225Y Battery Backup NVRAM IC For All Eventide H3000 Models. EA
Replacement DS1225Y Battery Backup NVRAM IC For All Eventide H3000 Models. This IC stores all user presets and typically fails after 5-10 years. It is socketed and can easily be replaced.

PLEASE NOTE: replacing this IC will cause the unit to lose any custom user presets, and after installing the new IC you'll need to do a system reset. To do the reset, press and hold the Functin key while powering up the unit. When the display shows REMOVE ALL PRESETS?, quickly press the YES softkey (the second key from the left). Then, when the display shows RESET THE OPERATING SYSTEM?, quickly press the YES key again. Sometimes in this operation you won't see these prompts because the display contrast has defaulted to a dark setting, or for other reasons. In this case try pressing the YES softkeys in the sequence explained above, or try adjusting the contrast by pressing the Function key and turning the knob.
We charge a premium for this part because we test each one that we acquire, and have found that the reject rate is very high. Be careful if you buy one from another vender. Counterfeit and faulty parts of this type are very common.
Currently there are no reviews for this product. Share your opinion with others, be the first to write a review.