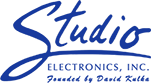 Your cart is currently empty
dbx 208 8-way rack for Noise Reduction, 900 cards, Rear RCA plugs for I/O. UP
SKU:
dbx.208.8way
Stock:
Out of Stock
For sale is a dbx 208 8-channel chassis with power supply. This unit was designed to be used with dbx noise reduction cards such as the 410, 411, 941A, and 942A but it could be used for DIY projects, and is compatible with other dbx cards including the 905, 929, and 906. If some mechanical mods are done this unit, it can be used with any dbx 900 series card.

If you want to use this with cards other than noise reduction models, there are two things you need to know:

First, the rear connector panel has 12-pin Molex connectors and RCA jacks. Either set of connectors can be used for the inputs and outputs. As with a dbx 900 rack, 2 inputs and 2 outputs connections are provided for each card position. We don't have a wiring diagram for the Molex connectors.

If you have an unbalanced patch system the RCA jacks will make interconnection very simple.

Secondly, the PC board notches in the aluminum front of the card are milled with one upper and lower notch per position, to accommodate single layer cards such as the 929 noise gate and 905 parametric EQ. 900 series cards with 10-way LED meters on the left side will not fit into this rack unless the upper and lower guide strips are modified. This will involve removing the two black phillips screws at the top and bottom, sliding out the thin key strip that contains the notches, and then adding 2 notches to the desired positions.

Not as easy as a 900 rack, and that's why the price is so low. If you are a DIYer, or want to use the rack for NR cards, or cards without LED meters, you may not care very much.

Cosmetically, it's in good condition, and the power supply has been tested and confirmed to work properly. This is set for 115 volts, but it can be switched to 230. However, North American buyers only, please. It would not be sensible to ship this unit overseas, due to the weight.

The power supply provides -15, +15, -24, and +24 volts. A power cord will be included.
Currently there are no reviews for this product. Share your opinion with others, be the first to write a review.