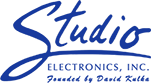 Your cart is currently empty
dbx 7 200 VCA Module for dbx 160, SSL MCI Sony etc Fully Tested, Guaranteed. D0
SKU:
dbx.vca.module
Stock:
Out of Stock
dbx 200 (also known as model 7) VCA assembly, used, tested guaranteed. Original, hard to find VCA as used in the dbx 160 and other early dbx products. (Note: there were many small manufacturing variations during production run of this part. The item you receive may differ in appearance from the photo, but package size, pinout, and electrical specs will be the same.)

This VCA is compatible with dbx type 207 and 208 RMS Detectors, which have a matching gain control law of 6mv/decibel. The model 208 is the earlier version, which was used in the dbx 160 VU compressor. The 207 is a later version, that uses the same package as the 202. Refurbished/tested 207 and 208 RMS detectors are available on our web store.

Each item includes a schematic that includes the VCA section of the 160 VU compressor, with a bottom view pinout of the module.

Specs are:
Supply voltage: +/- 15 VDC
Gain range: -100 to +40 db
Gain control constant -6mv/db
Gain at Ec = 0v: 0 db +/- 1 db
Currently there are no reviews for this product. Share your opinion with others, be the first to write a review.