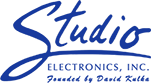 Your cart is currently empty
AMS Exact replacement Papst 230 volt quiet fan for DMX 15-80S, S-DMX, RMX16. AT
SKU:
ams.papst.230v.fan
Stock:
48
AMS Exact replacement Papst 230 volt super quiet fan for DMX, RMX. Mounting holes are tapped for compatibility with the original AMS mounting screws.

This is a 230 volt fan that is powered by a 150 volt winding on the power transformer. It runs at slow RPM for quiet operation. Since the fan is operated at reduced voltage and torque, it is can stop running or become intermittent if the bearing friction is just slightly above normal. If the fan stops or runs very slowly it must be replaced, or overheating and damage can occur.
Currently there are no reviews for this product. Share your opinion with others, be the first to write a review.