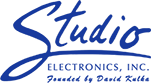 Your cart is currently empty
High Voltage 265VDC, 6.3VVDC 8A Power Supply For Altec GE Westrex UA Etc Tube Gear. UP
SKU:
HVPSU.8a
Stock:
Out of Stock
New Studio Electronics High Voltage Power Supply for Altec, Westrex, UA, and other tube gear. We have built many of these DC fully regulated power supplies for our customers and for in house high-end projects, and now offer them for sale. The regulated DC heater supply will yield better than published signal/noise specs for most pieces of vintage tube gear.

This quality unit utilizes linear (not switching) DC power supplies and is ruggedly built for long term trouble free service. It has a regulated DC high voltage output and a regulated DC 6.3 volt heater (filament) output. Both supplies are current limited, and the 6.3 volt heater supply has a soft start feature to prolong tube life. The rear panel has two 5 pin female XLR output connectors wired in parallel, so you can power 2 separate pieces of rack gear, if you want. The top and bottom covers have a series of ventilation slots. The cabinet is anodized black and the front panel is made from rugged 3/16 aluminum.

An internal jumper arrangement lets the user select the heater grounding reference, with 3 different options: floating, linked, and elevated. The elevated mode applies a +55 volt DC reference to the heater supply. This arrangement was recommended by many tube manufacturers including Altec, Western Electric, and Universal Audio, and results in quieter tube specs, especially in tube preamp circuits.


Specifications

High voltage section: adjustable 240-265 volts. Maximum current 100 ma. Linear, regulated circuitry. Maximum ripple .05% peak-to-peak. Dual high voltage outputs (100 ma. each) available as a special order.

Low voltage section: adjustable 5.5-6.75 volts. maximum current 8 amps. Linear, regulated circuitry. Maximum ripple 2mv. 4 or 6 amp supplies are available as a special order.

One 6' output output cable is included, along with a power cord and a 2-page user guide. Special/additional output cables are available on special order. Units are normally set up for 120 VAC North American power, but can easily be configured for 220/240 volt 50 Hz. power.
Currently there are no reviews for this product. Share your opinion with others, be the first to write a review.