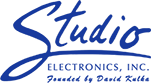 Your cart is currently empty
Studio Electronics 1602 Analog Summing Mixer Ultimate Quality, Superb Sonics. UP
This is one of the last units in a limited edition run of the SE 1602, a high performance, high headroom analog summing mixer that we designed and built a few years ago. These units were designed and built for a large studio facility in L. A. that wanted an ultra high end summing system in each room, as an alternative to summing in Protools and Avid. The studio we originally built them for had wanted a high performance audio summer to mix sound for major prime time TV shows and they have been in daily operation for years now, used in film, music, and thousands of TV episodes.

We are very proud of the performance and specs that we achieved in this unit. Maximum output level is a whopping +30, so you have 26 dB of headroom, far more than most pro audio gear. Frequency response is +/- 1/2 dB from 5 Hz. to 25 kHz. To keep the unit as quiet as possible we went with an external power supply. Signal/noise ratio is -89, THD is .03%. Square wave response is picture-perfect.

The SE 1602 has 16 differential balanced inputs and 2 transformer balanced outputs. Each of the 16 inputs has a level control, left and right assign switches (3 db down when L and R are selected to avoid center channel build up) and a master stereo level trim. We used Burr Brown OPA2604's on all the input stages and a Hardy 990 opamps for the stereo outputs, followed by Jensen JT-123-BL's, Jensen's top of the line output transformer. Inputs are connected via two 25-pin D connectors (standard analog pinout). The balanced outputs are on male XLR's.

The level controls are long life Allen-Bradley cermet pots. The circuit board is completely hand wired, and uses no surface mount components. Though we've just sold a relatively small number of these, all units in service have been absolutely reliable -- we've never had one come back, with even the slightest problem.

With the input pots and master level at 12 o'clock up, the unit is unity gain. The master level control allows you to trim the mix buss by about 7 db.

The mixer unit has a rugged, custom milled brushed aluminum case with a clear anodized finish. The external supply (linear, regulated) and a power supply cable are included. The power supply is set to 120 volts, but on request we can change it to 240 for buyers outside North America.

This is a fantastic sounding analog unit that will beat the pants off of Protool, any day of the week! It's new and in perfect cosmetic, mechanical, and electronic condition. If you live in Southern California, you're welcome to come over and demo the unit. We are very proud of these units and guarantee that you will be completely satisfied with it.
The summing unit is performing extraordinarily well and I am thoroughly enjoying it. Overall, I'm a huge fan. I truly appreciate your work on this. I love this thing. Thank you so much for your genius!

Rob Sizwe, Producer/Mixer/Engineer
(Straight Outta Compton, Aretha Franklin, YG, James Brown)
Currently there are no reviews for this product. Share your opinion with others, be the first to write a review.