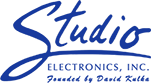 Your cart is currently empty
HS322 12/24 Sec Sampler Board w/Cable & IC For Eventide H3000 Ultraharmonizer EA
SKU:
HS322
Stock:
Out of Stock
HS322 11.8/23.7 Second Sampler Board with cable, program IC, and mounting hardware for the Eventide H3000 Ultraharmonizer. Tested, works properly.
Eventide released several H3000 models and numerous software program sets, so the rules for compatibility are a little complicated. If you're installing this board as an upgrade (rather than replacing a faulty board) here are the guidelines:
Your H3000 must have a 40-pin male ribbon connector on the motherboard. This connector is located on the right hand side of the motherboard.
No additional software is needed if you have one of these later, bigger program chip set versions: KS, DFX 1, DFX 2, or H3500 DFX B.
If you don't have one of the above program chip versions, you can plug in the v1.2 sampler IC that is included with this board, IF an empty program IC socket is present, AND your System IC is in the v2.xx range, AND the other program IC's in the unit are the 28-pin type (not the 32 pin type).
Installation can be a little tricky, and should be performed by a person with some technical experience. Along with the board we'll include a brief service bulletin that reiterates the above steps, but we can't provide phone support or step by step instructions. Some H3000's may have faulty socket wiring or other hardware issues that prevent correct operation of this board. The board is guaranteed to work properly, but cannot be returned if you experience compatibility problems or if other problems within your unit prevent correct operation.
Currently there are no reviews for this product. Share your opinion with others, be the first to write a review.