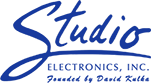 Your cart is currently empty
First Marshall Time Modulator Prototype, Most parts missing for parts / DIY. UP
SKU:
marshall.parts.diy
Stock:
Out of Stock
First Marshall Time Modulator Prototype, Most parts missing for parts / DIY.
This is the very first prototype that Stephen St. Croix built when he began developing the Marshall Time Modulator. It's a bare bones early version, with only two controls on the front panel -- input level and time delay. The motherboard is fitted with 4 hand wired delay modules that were meant for Reticon R5101 bucket brigade IC's, the the actual IC's are missing. The motherboard has 2 dbx 303 compander boards and various IC's. Several IC's appear to be missing. It includes top and bottom covers, but no power supply. Some of the holes in the bottom cover don't line up correctly, it would need additional holed drilled in order to fit properly.
We're unable to include any schematics for this item and probably nothing exists. It would be very difficult (though not impossible) to restore this and make it into a working unit. We are offering it as a historical artifact and as a random DIY project (albeit with limited potential). Sold as is, as found, for parts or repair, no returns.
In an interview with the Device Newsletter in 1979, Steve said that he developed the very first prototype in 1975, to win a bet. He said that he brought it into a studio to try it out in session, and everyone was blown away. The AES Convention happened to be a few days away, and everyone encouraged Steve to produce a finished demo model and show it, which he did. His booth was mobbed at the AES and the Time Modulator instantly got lots of great press. Initial prototype runs were produced, with early units going to Stevie Wonder and Sound 80 Studios in Minneapolis. Wrestling with improvements and tweaks, it was another two years or so to before Steve went into production. But when the 5002 Time Modulator was finally released it scored rave reviews in Studio Sound, REP, and Modern Recording, and sales took off. The unit offered here may be that original unit that Steve talked about -- we have no way of knowing.
Currently there are no reviews for this product. Share your opinion with others, be the first to write a review.