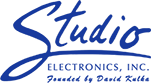 Your cart is currently empty
K4D-4M-24V-1 Type Used 24VDC Coil 4PDT 3 Amp Make Before Break Relay. RL
SKU:
K4D.4M
Stock:
Out of Stock
K4D-4M-24V-1 Used 24VDC Coil 4PDT 3 Amp Make Before Break Relay. This is a shorting type relay. When initially energized, the moving contact maintains continuity with the normally closed contact before making continuity with the normally open contact. This type of relay is used in circuits where the brief ""open"" condition that occurs with a standard type relay might cause noise or other problems.
You are buying ONE of these relays for the listed price.
Note: these relays should not be used in MCI / Sony JH-24 recorder cue switching section, due to the very low audio voltages in that circuit. Instead, gas filled gold plated contact type relays should be used.
These relays are from various manufacturers such as AMF, Arrow, Varley, etc. Some lots include relays from different manufacturers, but they are all equivalent types.
"
Currently there are no reviews for this product. Share your opinion with others, be the first to write a review.