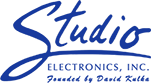 Your cart is currently empty
Top Quality Lunch Box Interface For TAB Telefunken V76 V76m V76s Preamp Modules.
SKU:
1CH.V76.rack
Stock:
6
Top Quality Single Channel Lunch Box Interface For All TAB Telefunken V76 V76m V76s Preamp Modules.

The Telefunken V76 range of tube mic preamps are, in our opinion, the best preamps ever built. The outstanding build quality, extraordinary audio transformers, ultra flat response, super quiet S/N ratio, amazing precision of the controls, and fantastic sonics put them in a class of their own. We've refurbished quite a lot of these preamps in recent years, and are constantly amazed by their phenomenal quality.

In 2009 Studio Electronics set out to design and build a top quality 4-channel rack for V76 modules that would match their extraordinary quality, and be a perfect companion product in operation and appearance. We've sold many and decided it was time to offer a single channel unit, in a desktop lunch box format.

If you've looked at other V76 I/O solutions you've probably noticed that most of them are not well made, and some have serious drawbacks. In particular, the need for 220 volt power (not 240), and more importantly, the need for ramped phantom power switching, are often overlooked.

Among the features of this great unit:

• It's portable, and designed to set left right, or behind your V76 module. The female Tuchel connector that mates with the V76 is fully insulated and has a convenient handle, so you can plug it in or out without straining the cables. The cable harness is covered with Flexo sleeving which protects the cables and gives a neat, clean appearance. The AC power cord within the harness has an overall foil shield.

• Power to the V76 module is 220 volts, supplied by an isolation transformer and dropping resistors. A switch on the rear of the unit selects 115 or 230 volts (50/60 Hz). We'll include a North American type IEC cord but for use in other regions, you'll need to supply your own power cord.

• The front panel includes a Phase Reverse switch, a Phantom Power switch, 20 dB Pad, and an Output Level control. For the output level pot we've used an Allen Bradley A-B military type pot.

• Any time phantom power is switched on or off, or main power is switched on or off, a soft switching circuit slowly ramps the phantom voltage, to prevent damage to the sensitive mic transformer. (This essential safety feature is missing from many V76 racks.)

• Toroidal transformers have been used for the mains and phantom power circuits, to avoid any noise or electromagnetic interference.

The unit is 3 (76mm) high (not including the handle), 6 (152mm) wide, and 12 (304mm) deep.

Please note: type V76s have a slightly different pinout, compared to other V76 versions. If you want to use this with a V76s let us know, and we'll change the connector for you. (Alternatively you can easily re-wire your V76s to match the more common V76 pinout. We'll include an instruction sheet that explains how to do that.)
Currently there are no reviews for this product. Share your opinion with others, be the first to write a review.