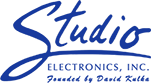 Your cart is currently empty
UREI LA-4, Recapped Cal'd Refurb'd Serviced New Opto Cells, w/XLR's. Work Great!
UREI LA-4, Recapped Cal'd Refurb'd Serviced New Opto Cells, w/XLR's. Work Great! These low noise compressor/limiters follow the LA2A and LA3A lineage with optical gain reduction and wide range ratio control, with 2:1, 4:1, 8:1, 12:1, and 20:1 settings. Excellent for recording, mixing, mastering, and sound reinforcement. Robust construction and accurate, high quality VU meters. The unit will operate on 110 or 220 volts. Serial #12722.

We're including new XLR adapter cables and an AC cord.

As with all the AMS, dbx, UREI, and other gear we sell, the unit has been fully restored, serviced, and calibrated in our shop by expert technicians who have worked on UREI gear for over 20 years and know these pieces inside out. All the electrolytic capacitors have all been replaced, along with the opto LEDs and cells. The unit is fully calibrated and accurately within spec. It is guaranteed to work like new.

The unit is in good mechanical and cosmetic condition. The front panels, panel parts, and meters look great. All the knobs are in good condition. The circuit boards and electronics are clean and tight. There are some small flaws on the front panel of the right hand unit but overall it is in quite good shape.
Currently there are no reviews for this product. Share your opinion with others, be the first to write a review.