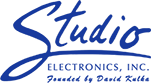 Your cart is currently empty
Original Modutec VU Meter, No Logo, For All UA UREI 1176LN LA-3A LA-4 Blackface Models. VB
SKU:
1176LNVU.nologi
Stock:
Out of Stock
Original Modutec VU Meter For All UA UREI 1176LN LA-3A LA-4 Blackface Models. This is an exact replacement meter for the black face limiter models. It has been tested with both AC and DC, for correct operation in +4 and GR modes. It includes a new cover, and will have an excellent appearance when installed. Item will be packed well and is guaranteed to work correctly.

Dimensions are:
Front of meter (cover) is 2 15/16 wide, 2 1/4 high.
If mounted with optional bezel, typical panel cutout is 3 wide, 1 5/8 high.
If mounted without optional bezel, round mounting hole is approx. 2 1/8 diameter.
Depth is 1 7/8, including rear terminals.

These meters were manufactured without the UREI logo on the scale, and original meters with the UREI logo are no longer available. These are the exact same Modutec meters that UREI used. If you are replacing a faulty UREI meter, it is not difficult to remove the meter cover and move the scale from your old meter to this one.

We also sell replacement bezel assemblies for this meter, for panel mounting. They are in our store in the UREI and UA Parts category.

----------------------------------

Please note: Two factors can cause bouncy action with these meters in original UREI Rev D and E 1176LN versions, and UA reissues. The Modutec meters used in these builds suffer from aging issues -- as the internal mechanism and magnets age, mechanical damping is reduced. This causes the meter needle to overshoot when moving up or down in response to DC current. Also, in GR mode, these three 1176LN models use a high impedance balanced bridge circuit with very little damping, which greatly exaggerates bounce. In most cases, meter action in a 1176LN Rev D or E or UA reissue in +4 mode appears normal, but GR mode exhibits needle bounce and overshoot.

(Later 1176LN versions (revisions F through K) use an opamp driver in the GR meter driver, which dampens the meter mechanism, thus preventing the bounce problem.)

We carefully test these meters. If excessive bounce is seen, we have a meter repair shop re-charge the magnets and adjust the internal resistors. However, this is just a partial fix -- the meters will always operate properly in +4 mode, but may still bounce in GR mode.

By adding a 5.1k 1/4 or 1/2 watt damping resistor to the GR circuit prior to calibration, the problem can be eliminated. Simply solder this resister to the two rear terminals of the GR switch that have orange and green wires on the other side of the pins, and then do the usual meter calibration adjustments.

One of these resistors is included with the meter along with a sheet explaining the mod and meter adjustments, in case you are using it with one of those three versions.
Currently there are no reviews for this product. Share your opinion with others, be the first to write a review.