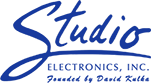 Your cart is currently empty
Eventide 2826 Omnipressor, Recap Fully Serviced Calibrated. Works/Sounds Great!
SKU:
Eventide.2826
Stock:
Out of Stock
The Eventide 2826 Omnipressors, sold in early 1970's, are a favorite among many top engineers, though they are not widely known or well understood. Described as a "compressor with attitude" by Eventide, the Omnipressor is a combination compressor, limiter, gate, expander, and more. This cool looking piece had very unusual capabilities. Infinite compression yields constant output level regardless of input level changes. Dynamic reversal flips the attack and decay of a sound, and can be used to make a voice track sound "backwards". Of course, the Omnipressor can also be used for many conventional compressing, limiting, and gating tasks. The unit for sale here is the earlier version, which is functionally similar to the later 2830, but with a slightly different front panel.

We have recapped, carefully calibrated, and tested this unit. It meets original factory specs and performs as it should.

New input and output XLR adapter cables are included. A copy of the owner's manual is also included. Please note that this unit is built for 115 volt power, and cannot be converted to 230.

Mechanical, cosmetic, and electronic condition are excellent.

Please note: this unit is unlike any other compressor or dynamics unit that was ever made, and setting the controls properly takes a little practice. The Omnipressor is capable of so many extreme effects, it can be like hitting your audio with a sledgehammer if you're not careful. If you are not familiar with these models, please read the manual to get to know some of the basic functions when you begin using it. It is particularly important to set the Atten and Gain Limit controls conservatively, to avoid overly processed and distorted output.

SPECIFICATIONS:
0 to +8 dbm nominal level. Maximum level should not exceed +20 dbm.
Frequency response is 20 Hz. - 16 kHz, +/- 1/2 db.
Compression is continuously variable from 1:1 to infinity, and 1:1 to -10:1.
Gain linearity: infinite compression setting gives constant output level +/- 1 db for 60 db change in input level.
Function control: continuously variable function knob is used to set compression/expansion ratio. Control operates parabolically to give spread near center,
Limit controls: the ATTEN LIMIT and GAIN LIMIT controls restrict the gain control range to any value between 0 and 30 db in each direction.
Attack time is continuously variable from 100uSec to 100 mSec
Release time is continuously variable from 100mSec to 1 second.
Currently there are no reviews for this product. Share your opinion with others, be the first to write a review.