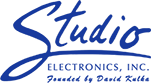 Your cart is currently empty
Orig. UREI 1176LN Rev F Limiter, Full Recap, Refurb, Cal, Works & Sounds Great!
SKU:
1176LN
Stock:
Out of Stock
Here's a nice original black face UREI 1176LN limiter, serial number 3541. This is the highly regarded Rev. F version, manufactured by UREI in North Hollywood, CA in approx. 1973.

The 1176, perhaps the most famous and popular limiter of all time, was personally designed by Bill Putnam in 1966. The gain reduction circuit uses an FET as a variable leg in a voltage divider circuit. These limiters are exceptionally musical, fast and easy to use. Construction is robust, with an accurate, high quality VU meter. The units will operate on 110 or 220 volts, 50/60 Hz.

The unit has been fully recapped, restored, serviced, and calibrated in our own shop by expert technicians who've worked on UREI gear for over 30 years and know it inside out. All the electrolytic capacitors have all been replaced, and the unit is fully calibrated and tested. The is an excellent 1176LN, fully guaranteed to work as described. The 4 main power supply filter capacitors have been replaced with costly, long life Sprague D type axial electrolytics. All the other electrolytics in the unit have been replaced with excellent Philips / Vishay types.

This piece is in excellent electronic, mechanical, and cosmetic condition including the knobs, panel parts, and meter. The circuit boards and electronics are clean and tight. Specifications have been checked with an Audio Precision analyzer and match the original UREI specs. The is fitted with a pair of our premium Flexo covered quad star XLR adapter cables. A shop-made copy of the owner's manual is included. A voltage switch on the rear panel selects between 115 and 230 volts, 50/60 Hz. The inputs and outputs are balanced transformer out, with the original factory transformers.

Whether or not you ever purchase from us, you should know that 99% of the gear described on ebay as "working perfectly" or "in excellent condition" is not. Buyer beware, please. A unit may pass signal, the lights may work, and the meters may do what they're expected to, but in almost every case there will be at least one or two problems with distortion, frequency response, or other functions. Unless the seller is a full service shop that knows these units, or has taken it to one and can show documentation, claims of perfect operating condition are almost always wishful thinking. We see evidence of these unsubstantiated claims every week when clients bring in "perfect" gear they've bought on ebay, and when we buy for resale. It's unfortunate, but Ebay sellers constantly make misleading claims about the condition of pro audio gear.

At Studio Electronics we do things differently...

1. Refurb and testing: every UREI item that we sell has been been thoroughly serviced and tested. Any marginal components are replaced. The VU lamps are replaced. The power supplies are thoroughly serviced and checked. The unit is thoroughly tested and then run for one week.

2. Marginal parts: Since we refurb so many UREI products, we know what to look for. If a switch is bent or noisy or if pot is faulty, we replace it. If a meter doesn't have the right ballistics, we repair it or replace it. If a fastener is missing from the top or bottom cover, we replace it.

3. Function and specs test: most UREI sellers on ebay don't own a manual, and may not even know how to operate these units. Before listing this item on ebay we checked signal/noise ratio, frequency response, attack and decay time, and more. Most sellers don't have the knowledge or the equipment to properly check these functions.

4. Support: if something goes wrong, we'll get you taken care of quickly. Our shop stocks hundreds of UREI parts including every single part in these units. Next week or next year, if there's a problem, call us. We'll be glad to help you out, and will do so quickly.

Here's your chance to own a truly legendary, great sounding compressor that will increase in value while you enjoy using it.

Thanks for looking and please contact us with any questions.
Currently there are no reviews for this product. Share your opinion with others, be the first to write a review.