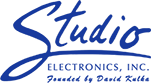 Your cart is currently empty
Xlnt UREI 565 Filter EQ Full Recap/Refurb, Transformerless w/Manual, XLR cables.
SKU:
565.transformerless
Stock:
Out of Stock
Here's a fully recapped and refurbished UREI 565 Little Dipper, fully refurbished, in excellent working condition. This is the transformerless. All the electrolytic capacitors have been been replaced. The unit has been fully tested; it is fully functional and within spec. With new XLR cable set and a copy of the user guide. This is a 4-band filter with low freq. cutoff, two sweepable notch/peak sections, and a high freq. cutoff section.

The high Q functions is so narrow that this unit can also be used to create phase/flange functions, ie the "jet plane" effect. This is explained in the owner's manual.

The unit has been fully recapped and serviced, and has been carefully tested.

Cosmetics are very good.

A switch on the rear panel selects 115 or 230 volts. Cosmetics are very good. XLR in/out cables, AC cord, and an owner's manual are included.
Currently there are no reviews for this product. Share your opinion with others, be the first to write a review.